Look what CHEST can do for you.
PERSONALIZED RECOMMENDATIONS FOR ALEX
Hi Alex:
Thanks for giving us a chance to introduce you to some of the many resources and opportunities we offer to help hone your skills and knowledge, advance your career, and improve patient care. We've curated a list just for you—and some of these resources are free—so don't wait: start exploring your opportunities with CHEST.
Education & Learning Options
TAILORED FOR YOUR NEEDS & INTERESTS

Alex, did you know CHEST offers a wide range of online courses and live learning events for the whole chest medicine team? Here's a selection of our online materials, tailored to your interests and learning preferences. We've made a sampling of some of our online content related to pulmonary medicine free so you can see how our e-learning options might benefit you. If you want more, you can subscribe to the e-Learning Library to get 1-year access to our top selling products.

e-LEARNING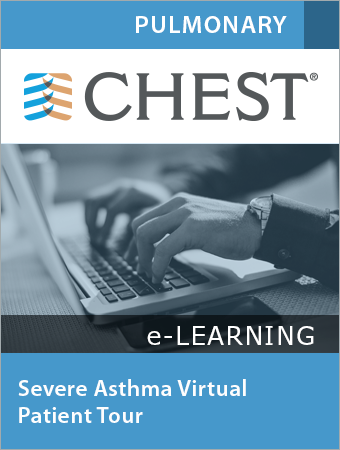 Severe Asthma Virtual Patient Tour
Learn about the latest treatment modalities, various biologic agents, and other methods of therapy available for patients with uncontrolled and severe asthma through this virtual patient tour. A short series of videos will take you on a tour of the journey patients Arlene Wilson and Clark Lane experienced with severe asthma from diagnosis to treatment. Each patient's case will discuss the key points and optimal strategies for evaluating and managing the disease. Participants can also view a short video on the inflammation in asthma which will introduce characters such as Edna, the eosinophil; Allie, the allergen; Thomas L. Peters, the thymic stromal lymphopoietin, and a host of others. Learn more
Create an account to view even more e-learning resources:
Respiratory Devices to Manage Obstructive Lung Disease Virtual Patient Tour
Addressing Steroid-Associated Health Complications (CHEST 2018 Recorded Content)
CREATE YOUR ACCOUNT
LIVE LEARNING
Throughout the year we offer hands-on simulation education courses with a strong clinical focus for improving patient care. And just like our CHEST Annual Meeting, these courses are team-focused and suitable for you. We use world-renowned faculty and adhere to a student to teacher ratio of 5:1 or better to ensure focused, thoughtful attention and a performance-based, hands-on assessment for each participant. Our facility features realistic clinic and hospital rooms and state-of-the-art simulation technology to create a life-like learning environment for practicing skills and techniques.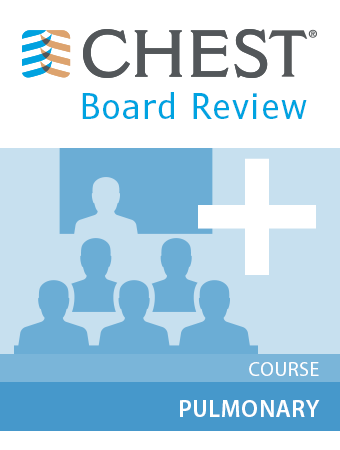 Pulmonary Board Review 2019
This premier course reviews the information you should know for the ABIM pulmonary medicine certification exam. The exam tests your knowledge and clinical judgment in crucial areas of pulmonary medicine. Course content mirrors the ABIM exam content outline for pulmonary board review. Whether you need to certify, recertify, or simply review, this course offers a thorough review you can put to the test. Learn more
More live learning events that might interest you:
Cardiopulmonary Exercise Testing (CPET)
EXPLORE MORE LIVE LEARNING COURSES
CHEST ANNUAL MEETING 2019
Resources for You & Your Patients
TAILORED FOR YOUR PATIENT CONCERNS
NEWS, UPDATES, & JOURNAL ARTICLES
Access the full text of these articles and so much more with a CHEST membership: join us today.
More news and journal resources that might interest you:
PATIENT EDUCATION
Since you're on the front line of patient care, you may be interested in our Patient Education Resources. All are free and available online; some are offered in Spanish. You can print for your patients or share them as PDF files.
As an example, Alex, check out our patient resources like this one:
And to help facilitate patient conversations, you might want to take a look at:
The Value of a CHEST Membership
TAILORED FOR YOUR CAREER SUCCESS
Alex, we hope you take the time to explore all of the valuable resources CHEST has to offer non- physician professionals who deal with pulmonary and sleep issues on a daily basis. And did you know CHEST members receive significant discounts on professional development courses, training, events, our annual meeting, and more—as well as a subscription to the CHEST® journal?

JOIN TODAY FOR AS LITTLE AS $95

Watch the video below to learn more about the benefits and value of a CHEST membership. And we hope to see you soon at one of our events, courses, or live learning sessions.
STAY CONNECTED WITH CHEST
INTERESTED IN MORE?
These recommendations were curated based on your responses to the CHEST survey. Interested in other topics? Take the survey again and adjust your answers, or visit us online at chestnet.org. You can also contact our friendly Help Team with any questions you have: